Aqua Exspresso HF 800
Aqua Exspresso HF 800
Information
Gallery
Download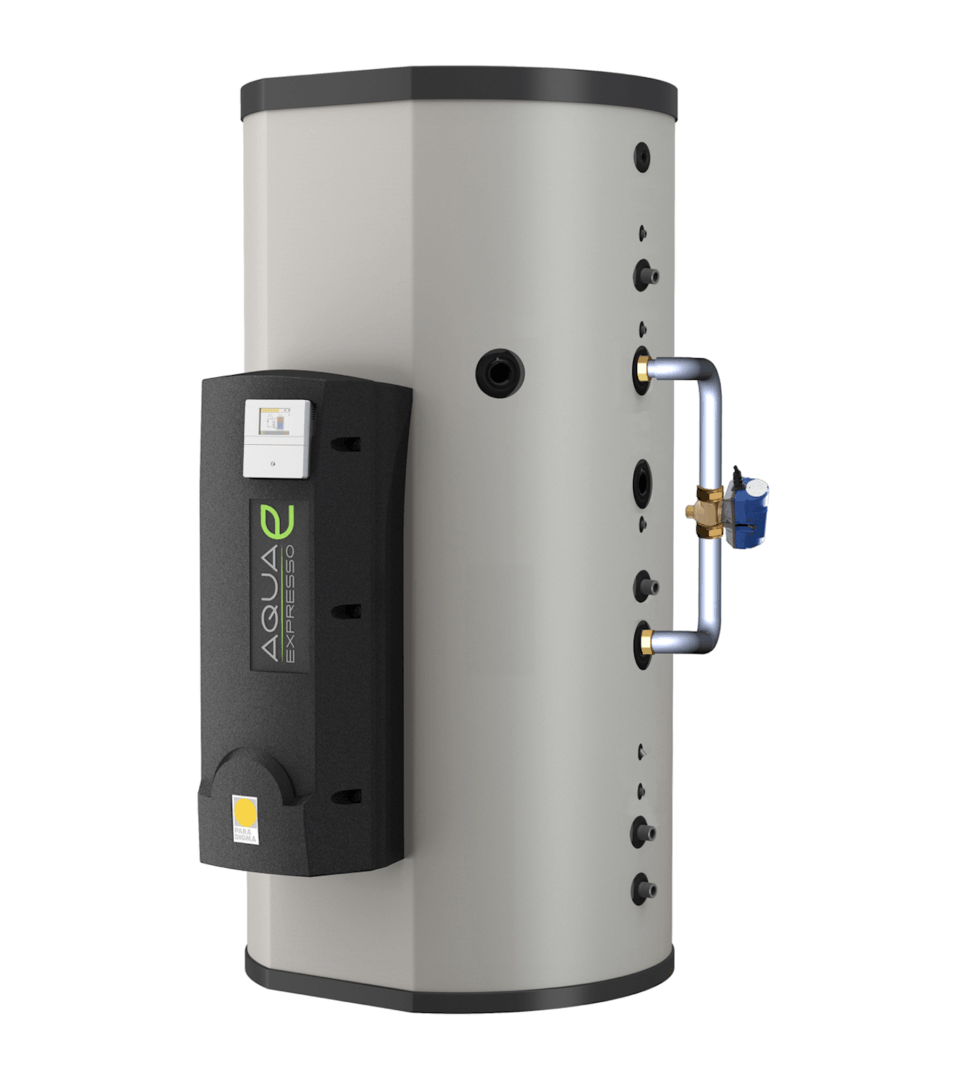 Aqua EXSPRESSO 800 HF is specially designed for heating systems using alternative heat sources. Thanks to the combined capacity of AQUA EXSPRESSO HF 800 it was possible to combine the work of two completely different heat sources - a high-temperature source in the form of a solar thermal installation (or pellet boiler) and a low-temperature source in the form of a heat pump.
The received thermal energy can be used at the same time, both for preparation of hot water and for heating system.
Aqua EXSPRESSO 800 HF is designed for use with heat pumps up to 15 kW and boilers up to 65 kW.
The use of a 3-way valve to divert backflow to the lower or upper part of the tank allows the use of heat pumps (which operate with a low delta and a high flow rate of up to 2500 l / min) for hot water and low temperature heating system.
The innovative system of stratifiers provides ideal temperature stratification of the heat carrier in the middle of capacity and does not allow to mix a high-temperature part with low-temperature. The specially developed system for simultaneous use of a low-temperature (heat pump) and a high-temperature source (heliothermal installation) of thermal energy provides temperature stratification to 90 ° C.
The use of the Aqua Solar solar thermal installation ensures fast loading of the tank with a high-temperature coolant, which is then used to heat hot water.
Characteristic
Buffer tank for heating system with high volume flow rate (in case of heat pumps)
Provides clear stratification of the coolant in the tank for hot water supply and low-temperature heating system
Hygienic instantaneous hot water treatment with WFS-35
Ideal for combining a heat pump with a Paradigma solar thermal system
Combination with heat pumps up to 15 kW
Combination with boilers up to 65 kW
Maximum volume consumption 2500 l / min
815 l capacity
Perfect coolant temperature stratification
STAqua II solar pumping station is installed on the tank
Changing the direction of movement of the coolant return line of the heat generator is by means of a 3-way valve (optional)