EcoStock
EcoStock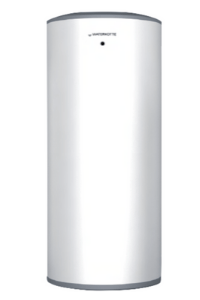 EcoStock tanks are optimal for heat storage or hot water preparation in private and commercial facilities. Whether they are used as a capacitive water heater or storage tank - you will always get the best solution according to your requirements.
Highest quality WATERKOTTE
Thanks to the use of high-quality tanks of the EcoStock series, it is possible to create various configurations of heating systems. EcoStock is ideal for integration with WATERKOTTE heat pumps. The modern design corresponds to the design typical for all model range of the WATERKOTTE company.
Best corrosion protection
Capacitive water heaters are made of high quality steel. The FC-Protect method is used to process welds. Additional corrosion protection is provided by an anti-corrosion rod.
High performance
WATERKOTTE floor tanks have highly effective thermal insulation. In combination with WATERKOTTE heat pumps, they are an efficient and convenient solution for heat storage and hot water supply.
Characteristic
Capacitive water heater with high quality insulation
Made of high quality S 235 JR steel
Standard tanks from 200 to 1000 l
Special tanks with a capacity of more than 1000 liters
Universal connections for use as a hydraulic manifold or layered storage tank
Flange for cleaning and inspection
Pointer thermometer
G1 hot / cold water connection
High-quality thermal insulation made of rigid polyurethane foam that does not contain fluorochlorocarbon
Exterior cladding Skai color RAL 9003
Enamel coating according to DIN 4753
Anti-corrosion magnesium anode
Optional with large area smooth tube heat exchanger optimized for use with heat pumps
Options
Flange with optional heat exchanger
Electric heating flange
DC anti-corrosion anode