Paradigma solar collectors
Paradigma solar collectors
Information
Gallery
Download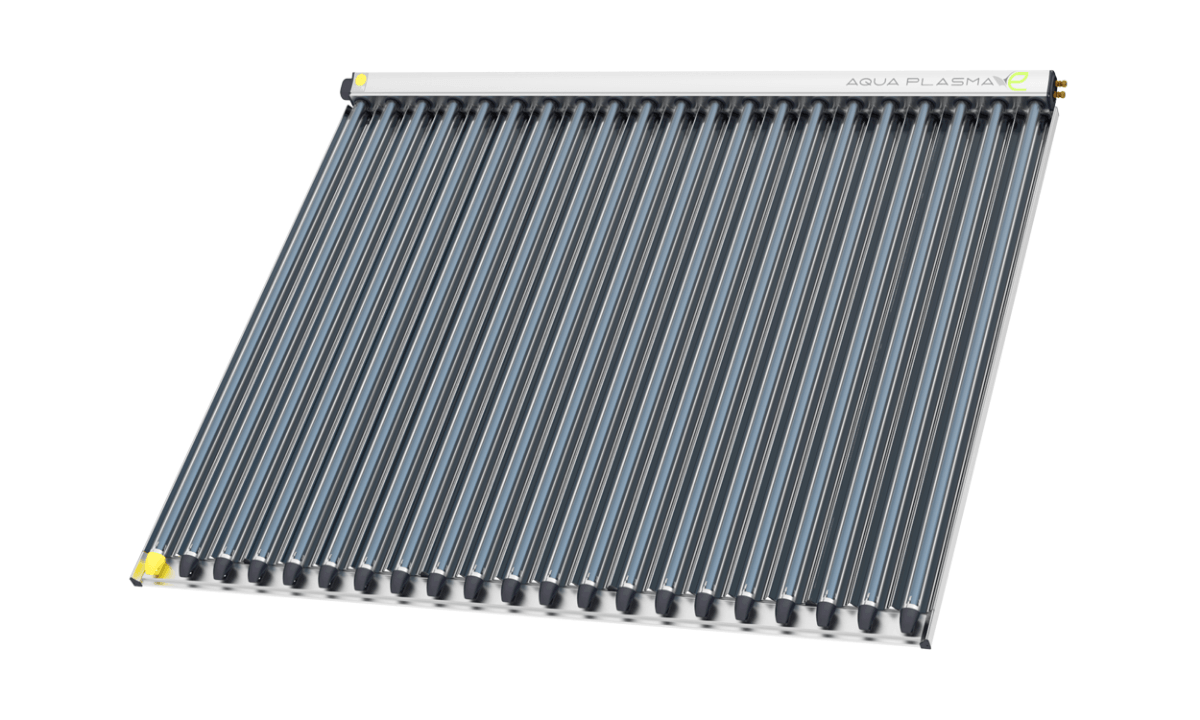 Paradigma solar collectors provide optimum performance all year round, even in low sunlight. You need a much smaller roof area per 1 kW/h of heat produced compared to other solar collectors. Thanks to the unique technology of using water as a heat carrier (AquaSolar system), Paradigma collectors can be connected to existing heating systems without replacing the buffer tank. High-efficiency vacuum collectors provide a coolant supply of more than 60 ° C and operate as an additional boiler. Paradigma offers two models of manifolds: the standard STAR-E and the innovative AQUA Plasma.

AQUA PLASMA vacuum collector is a continuous improvement of developments in the field of solar energy of the most successful concept - solar Aqua Systems. Plasma spraying technology was used for the first time to increase the productivity of the AQUA PLASMA collector. During the spraying process, plasma is formed from small molten silicate particles, which is transferred to the surface of vacuum tubes and a parabolic mirror concentrator, optimizing the process of converting solar radiation into thermal energy.
Anti-reflective coating of vacuum tubes reduces the reflectivity and ensures optimal passage of sunlight through the glass surface. A completely new coating was developed and patented in collaboration with scientists from Dr. Laure Plasma Technologie GmbH.
Structure of Paradigma vacuum collectors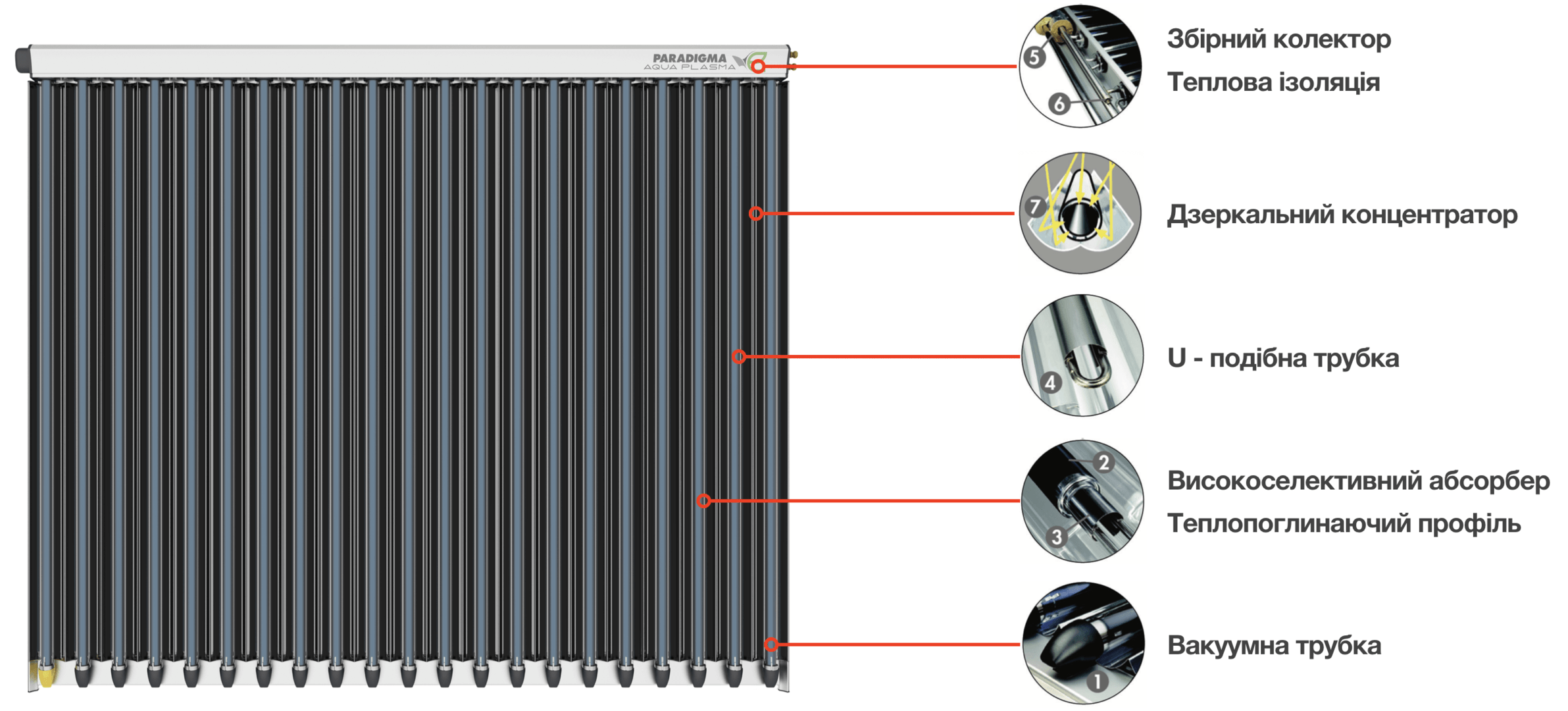 Water is an ideal heat carrier for solar collectors
The advantage of water as a coolant is the lack of consequences for installation during its boiling. Under the influence of high temperature, water changes from a liquid state to a vapor state and after condensation continues to operate without losing its properties. The use of water as a heat carrier is due to a number of advantages, the main of which are high specific heat, ease of transportation in pipelines due to the lower viscosity of the liquid, which in turn does not require the use of powerful pumps. The use of water in heat transfer provides high heat transfer coefficients, uniform heating of the heat transfer surface, water is the cheapest and best coolant - an intermediary in energy transfer. The use of water makes it possible to use solar systems with existing capacitive water heaters and to modernize the installed systems using existing equipment.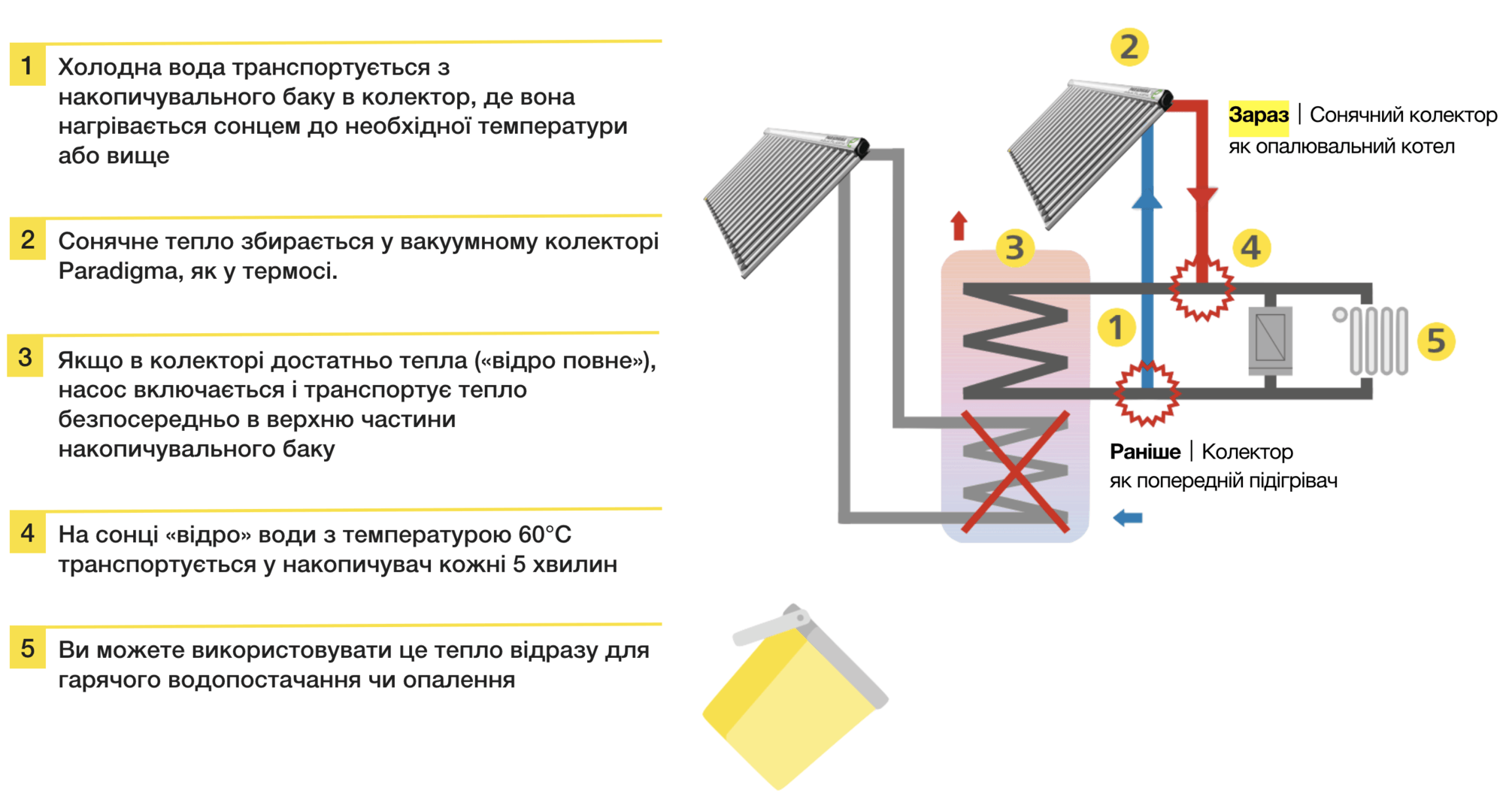 Antifreeze system
Water-glycol mixture is used in traditional solar installations. This ensures that they do not freeze or damage during the cold season. The AquaSolar system, on the other hand, is different: by using low-temperature heat from the lower «cold» part of the buffer tank, the solar system protects itself from freezing. Energy consumption by the antifreeze system is only 1-3% of annual productivity and is more than offset by the benefits of water (the productivity of solar collectors that use water as a coolant is at least 15% higher than solutions using glycol mixtures).
20 years - warranty on the antifreeze system