In collaboration with the Bauhaus-Universität Weimar Institute for Materials Research and Testing (MFPA), Argilla Therm has developed a clay-based heating and cooling system.
A multifunctional, patented clay climate system with highly efficient clay modules, thanks to one surface, provides five functions: heating, cooling, humidity and air purification, as well as optimum acoustics. It is used for arrangement of ceiling and wall panels.
The elements of the clay system combine the advantages of a modular structure made of drywall and the outstanding climatic properties of clay rooms. They neutralize air pollutants, absorb odors and regulate humidity.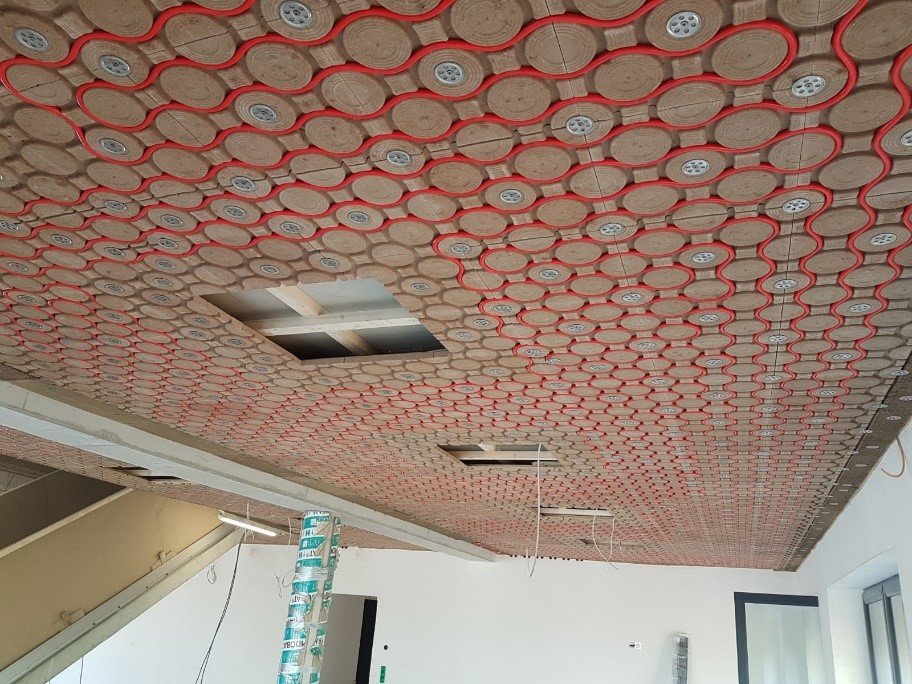 The system is based on modular clay elements, which are easily and flexibly attached to the ceiling and walls, and which can provide the perfect indoor climate: nice, healthy and with the lowest energy consumption.
Two types of modules are offered: for use with water system and electrical cable.
Module composition: clay (≥ 35%), sand, brick flour, miscanthus fibers. To cover 1m2 requires 7.23 clay modules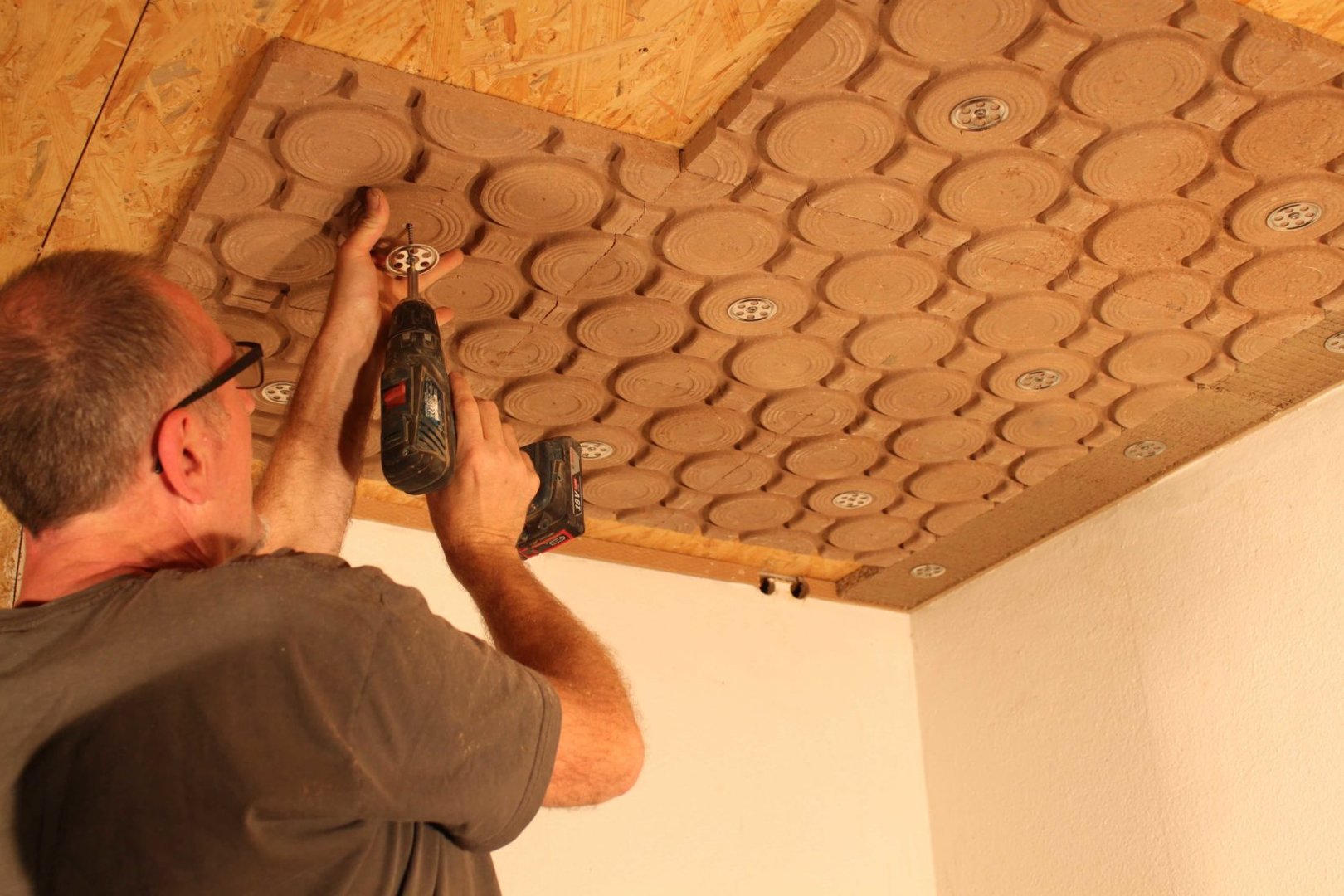 As in the case of gypsum boards, clay modules also provide uniform thermal radiation due to the fact that pipelines are laid throughout the ceiling surface. Ceiling heating systems exhibit high performance because they radiate heat over a large area.
Clay is the optimum material for the arrangement of low-temperature surface heating. Natural building material has a positive effect on the indoor climate and provides a healthy lifestyle. It temporarily absorbs excess water vapor from the room and, if necessary, later releases it, while the material is not damaged or molded. Clay modules accumulate heat well and protect the room in summer from overheating.
Depending on the heating system, the reaction time of highly efficient clay modules is approximately 5-10 minutes. The system goes into full mode in about 60 minutes. If the power supply stops, the clay panels keep the surface temperature relatively constant for about another 60 minutes. The clay system is extremely efficient when working with heat pumps.
The average surface temperature for ceiling systems up to 3 meters high should not exceed 32 ° C. With the water system «wSYSTEM», this value is achieved at a flow temperature of 38 ° C, with a power output of 70 W / m2.
With a ceiling height greater than 3 meters, the average surface temperature may be higher and should be adjusted accordingly to existing standards.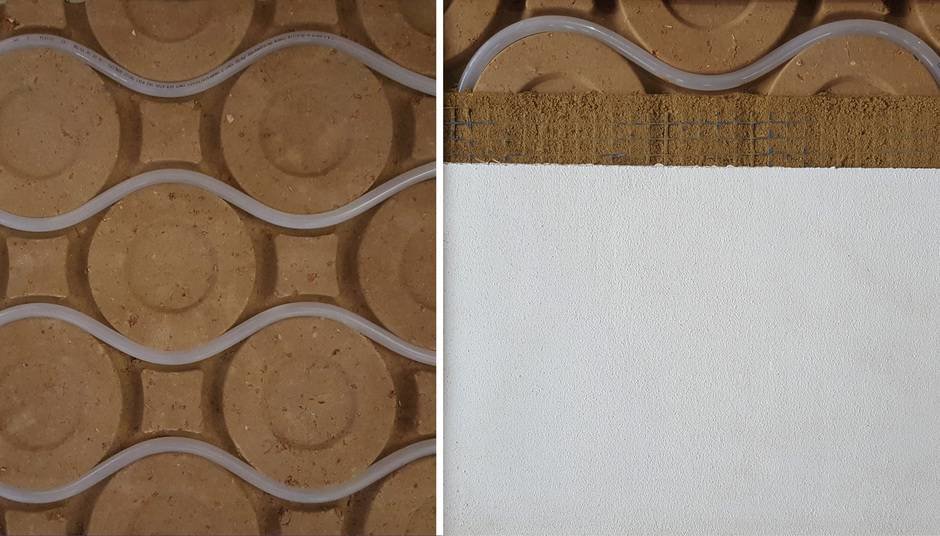 Compared to air-conditioning systems, surface cooling is more energy efficient and maintenance-free. Unlike conventional air conditioners, the clay climate system does not cool the air, but simply absorbs heat from the room and dissipates it. eliminates unpleasant drafts and excessive circulation of dust indoors, along with harmful mites, bacteria, or viruses.
The use of clay also minimizes the risk of moisture on the cooling surface. Even when condensation is formed, it is immediately absorbed by the highly absorbent clay modules, temporarily stored and released back into the room when the humidity drops. This lowers the room temperature and keeps the room's moisture content constant without the use of mechanical dehumidification.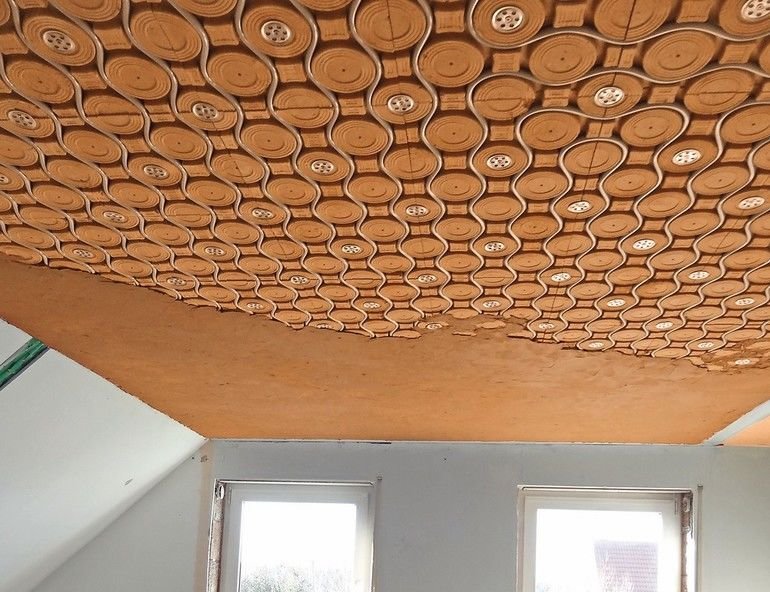 Ceiling cooling is much more energy efficient than traditional air-conditioning systems because 1 liter of water can transport as much energy as 3300 liters of air. In addition, the indoor climate is significantly improved as there are no drafts and noises and no risk of germs. Service costs are completely excluded.