What is an HVAC (Heating, Ventilation, and Air Conditioning) system design project and why is it necessary?
An HVAC system design project is a crucial stage in creating reliable and efficient systems for industrial, commercial, office buildings, as well as residential houses, private residences, or apartments. During the design phase, all client preferences and requirements regarding equipment and engineering communications are coordinated. Design engineers carefully select the type of equipment and the quantity of materials, optimizing the budget and reducing operational expenses. The design decisions are always aligned with the architecture and design of the building. A professional project helps avoid errors during installation and prevents interference between engineering networks and other utilities in the building. A comprehensive approach to design will prevent mistakes and avoid additional costs.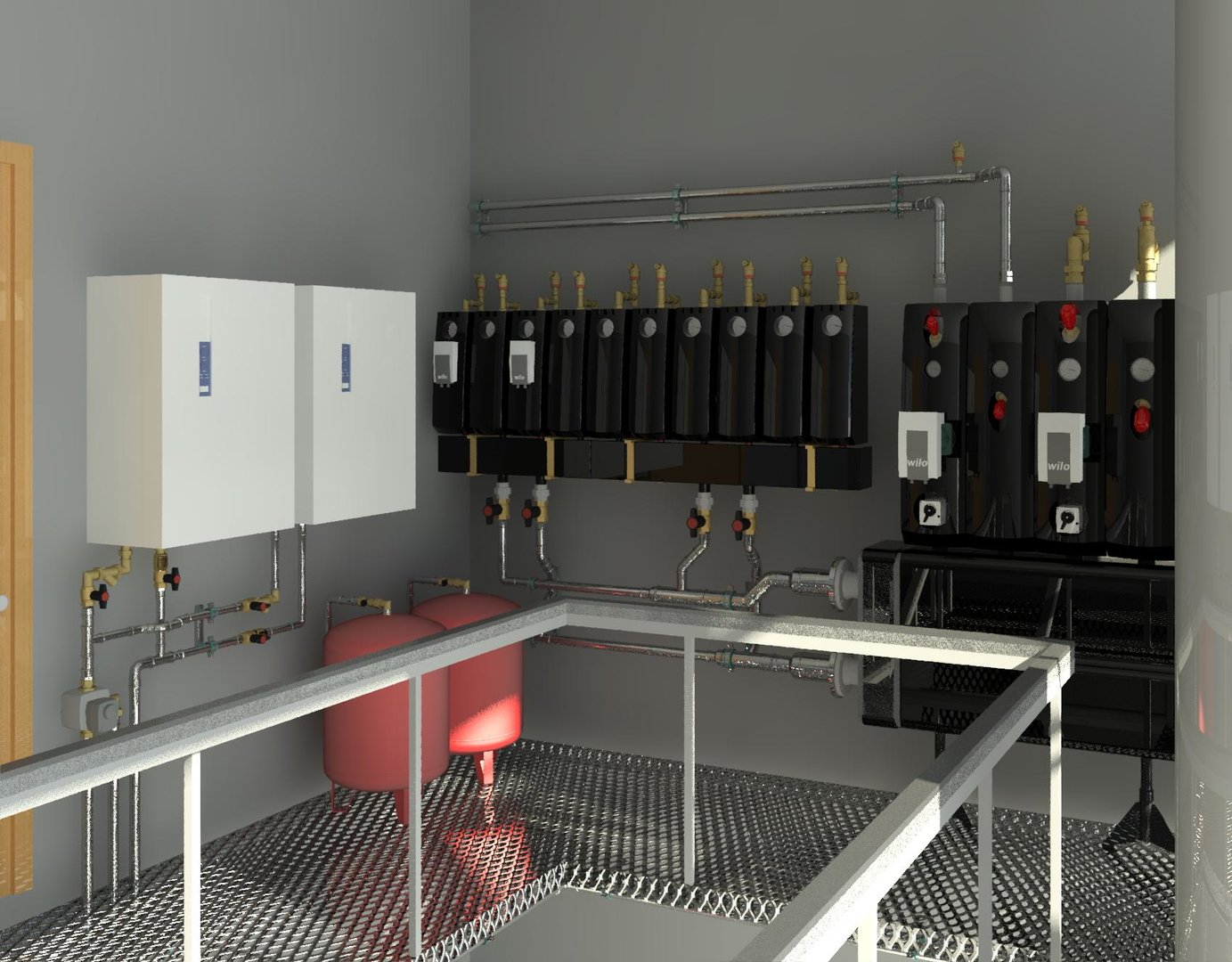 Why is an individual engineering systems project necessary?
Despite the common belief that engineering system projects can be found for free on the internet, it should be noted that there is no universal HVAC project that can be implemented in two different buildings. Each project requires individual calculations and professional adjustments, as each building has its own structural and architectural peculiarities, and each client has their own preferences for comfort and design.
The most common challenges and issues that engineers and designers face include:
Calculation of heat losses for each individual building (as incorrect calculations or their absence can lead to various unforeseen situations, such as insufficient heating during low temperatures or excessively high heating costs compared to the actual building needs).
Calculation of heat gains for each room. Improper determination of these values can result in incorrect selection of air conditioning systems and, as a result, the inability to cool the building to a comfortable level or discomfort caused by excessive cold airflows.
Selection of the capacity of heat generators and ventilation equipment.
Proper selection of pipe and air duct diameters.
Selection of circulation pumps and balancing valves.
Accurate calculation of hot water consumption.
Coordination of engineering decisions with architectural or design projects of the building, and more.
A professional engineering systems project is a smart investment
If you want the engineering solutions in your facility (heating, ventilation, water supply/drainage, water treatment, and other systems) to be reliable, safe, and meet your needs, don't overlook the importance of creating a professional engineering systems project. Remember, saving on the project can be a risk of incurring even greater expenses associated with problems in the operation of the building's engineering systems, as correcting mistakes without significant intervention in the building's structure or other elements can be extremely difficult. A comprehensive project simplifies the implementation of systems, reduces construction time, and allows the client to optimize their costs. A professional engineering systems project is one of the most beneficial investments in your safety and comfort. The cost of design work is minimal in the overall construction budget, while the benefits of high-quality design can result in significant cost savings during construction. Most importantly, a project ensures the delivery of a reliable engineering system that fully meets your comfort and safety requirements.
Why choose «Sahara» for your engineering systems project
Our design engineers are constantly learning and improving their professional skills, mastering the latest design technologies, to deliver a finished project that meets your requirements and all engineering standards. As we provide a full range of solutions, from design to installation and service, our design department constantly receives valuable feedback from our clients, allowing us to enhance our design solutions. We collaborate with the best global engineering brands and have direct consultations with manufacturers to achieve the best results. By utilizing modern software, you'll have the opportunity to take a virtual tour of your building even before the start of installation.
Today, we design virtually all sections of engineering systems for projects of any complexity: heating, air conditioning, ventilation, dehumidification and humidification, water supply and sewage, water treatment and wastewater treatment, geothermal systems and solar installations, central vacuum systems, and wastewater treatment.
You can request the development of a concept and working project for engineering systems of any complexity by visiting one of our offices or sending an inquiry to our email address info@sahara.com.ua